Like the 1,000s of other pages of evidence uncovered and descriptions of crimes on this site, this web page is only one part of a massive multi-state entanglement of government corruption and cover-up. See size
Money Laundering, 1 of 2.
Part of the crimes by one of nearly 300 investment funds and $5 billion in hidden Oklahoma state tax credits and tax refunds. No one has the courage to stand up!!
FBI Cover-up that involved Framing Innocent Parties, How and Why it works!
Why this works
Most pooh, pooh! Others who think about it and
The FBI ask me to provide them evidence uncovered, then the FBI rejected the evidence saying the evidence was too complicated xxxx yyyy.
The FBI refused to considered
Understanding what evidence is telling us.
Plots of the Altus FDIC and Federal Reserve Board reports.
Major money laundering red flags.
Stealing state tax revenue.
$ amounts way out of line by FDIC requirements or any standards.
Using mirroring account.
To keep this simple this will address one part of $5 billion in hidden Oklahoma state tax credits and tax refunds uncovered for one four year period. $5 billion was Oklahoma's annual budger during this same period.
This explains why a state endowed with natural resource has remained and have continually fell further behind the lower economic and education funded states.
---
Below is the base timeline for other timelines, and is based on a composite chart of bank reports for First State Bank Altus OK and subsidiaries assets. More on the Altus bank's subsidiaries, including bank mirroring accounts used to embezzle and launder criminal profits. View
Consider the below charted timeline in light of other evidence uncovered, and timelines.
Note: The numbers below do not always add up. These are different combinations of evidence at different stages.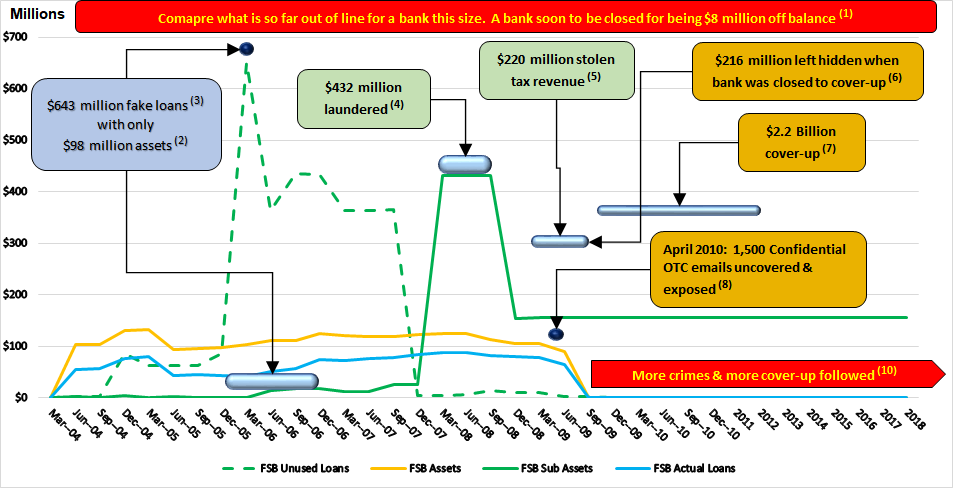 Most notable.
| | | | |
| --- | --- | --- | --- |
| A | Date | Issue | Link |
| 1 | 2005 Dec to Nov | Three scenarios so far out of line, yet ignored, and there is more proof | View |
| 2 | 2005 Dec | Banks total assets | View |
| 3 | 2005 Dec | Banks $649.7 million unused loan commitments ($6 million normal) used with fraudulent tax credit investment claims | View |
| 4 | 2008 Jan | $432 million laundered | View |
| 5 | Nov 2008 - Jul 2009 | FBI cover-up. $220 million tax revenue theft payoff, $60 million was for Altus Venture | View |
| 6 | 2009 Jul | $216 million left hidden in Altus banks subsidiaries accounts when the bank was closed July 31, 2009 to cover-up. | See above |
| 7 | 2009 Aug | State authorities start diverting $2.2 billion to cover-up | View |
| 8 | 2010 Apr | 1,500 Confidential OTC emails uncovered & exposed | View |
| 9 | 2011 - 2017 | | |
| 9 A | | Uncovered $5 billion in hidden state tax credits and tax refunds | View |
| 9 B | | Court trials to cover-up resulted in three mutually contradicting versions of the same crimes. | View |
| 10 | 2010 Apr | Tax Revenue Theft Cover-up | View |
Money Laundering 2 of 2