Colorado Land Development Confidence Scam Timeline.
The following are the words of victims of the Colorado crimes. Re: Crimes, I was an outsider framed as an insider (FBI Confidential Informant), in the FBI's and other authorities bungled attempt to cover-up
The basic Altus plan was to jam up properties that the property owner partners had deeded to 'MAPI', using liens and make them next to impossible to sell or refinance with another lender. At the same time, by calling the notes and beginning legal actions, the Altus group was able to do the same thing with the properties (4S and GCHC) owned outside of MAPI.
-
Even though these properties were never part of any deal the Altus group tried to use a $2.7 million loan to tie up $30 million worth of reale state. This would make it very tough to refinance when the loan has been called and is in default and is associtated with other property (MAPI) that has been encumbered by mechanics liens, etc. As you might imagine, Steamboat Springs being a small town, there was a lot of publicity surrounding the MAPI property drama with homes not being finished, loans being called, liens being filed, etc. This all scares the local bankers to death...which was exactly what Altus intended:
shut off cash flow with liens,
thereby cause defaults,
call loans, screw up credit to prevent subsitute financing, force foreclosure,
take windfall profit when taking the property back through foreclosure.
Timeline
October 2005, 4S Development and Grassy Creek Holdings (GCH) first met with Altus.
March 21, 2006, 4S and GCH, signed Memorandum of Understanding with Altus.
May 25, 2006, MAPI was formed.
July 2006, Altus used 4S property as collateral to obtain loans from FSB Altus.
Began development as MAPI
4S deeded 21 lots to MAPI worth $5,250,000 and 41 acres worth $1,230,000 to MAPI.
GCHC deeded 23 lots worth $17.25 million to MAPI.
September 2006 MAPI took out $3.3 million Lake Village development loan from Vectra Bank (local bank).
September 2006 thru June 2007, sold $12.5 million in Mt. Harris lots and $1,250,000 in lots at Lake Village and Hidden Springs.
March 2007 thru June 2007, contracted with 23 home-buyers for $7 million in home sales.
June 2007, received call from other Altus investor giving 4S and GCH the "heads up" about Altus activities.
June 2007, asked Altus for Bruni consulting contract which was not approved by managers.
Asked Altus for formal accounting information for the umpteenth time after investor call and learning of Bruni consulting contract.
August 2, 2007, with accounting not forthcoming, called members meeting.
August 6 2007 approx, appointed additional managers and passed resolution calling for outside audit.
August 8th thru August 15th 2007 approx, members of Altus group, Anderson, Grissom, Bruni, Keys resigned as officers, and managers.
August 20th 2007 approx, Robinson Construction (a MAPI partner brought in by the Altus group) files construction (mechanics liens)
August 20th 2007 approx, FSB Altus et al cancel construction financing pending with Textron, etc.
FSB Altus starts to call notes (or mortgages) against Villages ($4.7 million) Mt. Harris ($2.8 million) Preserve ($2.1 million), Seneca ($534,000), etc.
Now the main problem was the liens filed by Robinson at Altus' request...this blew up pending lot and home sales, and started to cause problems with Vectra Bank ($3.3 million) Alpine Bank ($1.8 million) and construction loans because the remaining MAPI partners could not close on lot or home sales with mechanics liens in place. Robinson filed $5 million in liens. This caused defaults, broken contracts, friction buyers, banks, the town of Hayden, vendors, etc. and began to affect our credit (which at the time was quite good).
Finally
MAPI filed Chapter 11 in January 2008 to keep from losing $15 million in finished lots.
4S filed Chaper 11 in February 2008 to keep from losing $22 million in land with $4.7 million in loans to Altus.
GCHC filed Chapter 11 in September to keep from losing $30 milion in land with $2.7 million in loans to Altus.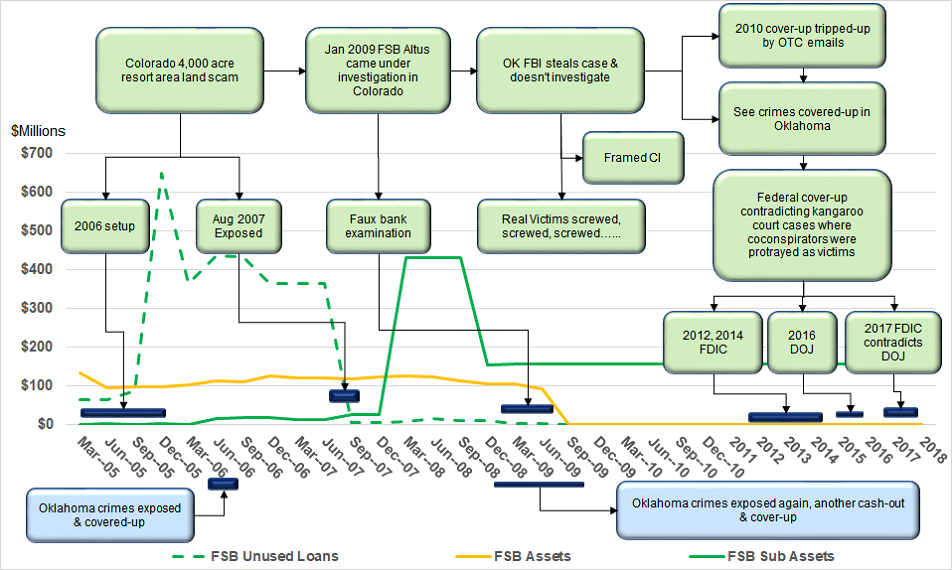 Quartz Mountain Aerospace (QMA) Altus OK, like Altus Venture are subsidiaries of First State Bank Altus OK.
Oklahoma Tax Commission (OTC)