Paul Doughty's History
More on Paul Doughty's History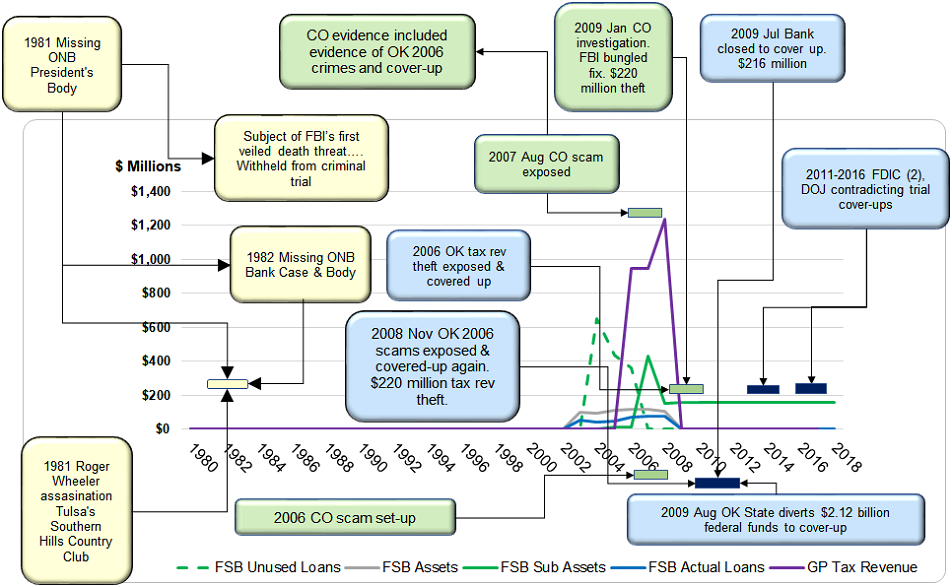 News articles collected revealing early stages of Paul Doughty's history.
The federal government allowed Paul Doughty, to have a bank with his history, and then protected Doughty while he and F. Don Anderson operated frauds in two states.
Paul Doughty returned to the family bank, First State Bank Altus OK, where he worked for his father. Paul Doughty soon took over as president, and assumed control during his father's failing health, circa early 2000s.
Along the way, Doughty was alleged in several frauds and scams, but his father, always had to money to break the other party in civil court. In one case Sil-Flo, Doughty and Rod Fancher (Vulcan Oil) were convicted by civil jury. Doughty money kept the case in appeals until one party deceased. Sil-Flo tried with no success to have the trial moved to Texas where the fraud occurred.
---
Paul Doughty 1980s
Considering later events revealed what was occurring at the bank at this point, the drowning can't be summarily dismissed as mere coincidence.
9/16/1981

Ayres City Banker On Alaska Trip Drowns

View
10/18/1981
Pool President of ONB - Doughty Promoted started
View
1982 Failure Oklahoma National Bank, Oklahoma City OK
9/14/1982
Vulcan - Judge Denies Plea For Receiver
View
10/4/1982
First National Purchases ONB
View
10/6/1982
Ailing Vulcan Owes ONB *
View
10/7/1982
FDIC Asked First National Bank to Buy Ailing ONB
View
1/4/1983
Dax Files Bankruptcy
View
6/25/1983
Criminal Allegations Made Against Oklahoma National Bank *

Paul Doughty was Exec VP, at Oklahoma National Bank
Eighteen instances of alleged criminal wrongdoing at Oklahoma National Bank
Oklahoma Securities Commission investigation
Texas business accusing bankers
Paul Doughty and Rod Fancher, Vulcan Oil would some years later be convicted by jury in Sil-Flo case, above.
Was this part of what some said was Paul Doughty's father's cost to keep the family's name clean, and insure his son could run the bank?

View
Walking away from securities fraud
9/7/1983

Oilmen OK Violations Injunction *

Walked away from securities fraud by agreeing not operate fraud again.
Note - losses were repaid, where did the money come from? Rumored to be Paul Doughty's fathers cost to keep his sons name clean?

View
1988 Sil-Flo case - jury convicted Paul Doughty and Rod Fancher
1988
1985 - 1988 Civil jury conviction for Paul Doughty and Rod Fancher.
View

Missing FBI/DOJ, FDIC... bank investigations? All involving Paul Doughty

2009 First State Bank Altus OK
2009 Vectra Bank Steamboat Springs CO