FBI and FDIC covered-up bank fraud and money laundering
April 8, 2021
Objective: Expose evidence of FBI, Bank Regulators, and the Media's Roles in Corruption Political Funding, and Cover-up.
Evidence of bank loan fraud(1) and money laundering (2) can be seen in the below plot of federal bank reports for First State Bank Altus OK(1) and subsidiaries(2). Note the variations from the bank's total assets. More below.
Re: The FBI framed me as a Confidential Informant in their cover-up of corruption in Oklahoma.
Below is one of a series of charts documenting this and other crimes. View. In this case, other forms of evidence have been uncovered verifying the same crimes in Oklahoma and the authority's covered-up "economic development tax credit investment funding scams." Other evidence shows this is not unique to OK and is tied to election funding.
This timeline plots federal bank reports for First State Bank Altus, OK. Both FDIC (bank FDIC Certificate 9873) and Federal Reserve (subsidiaries RSSD ID: 1067194) reports.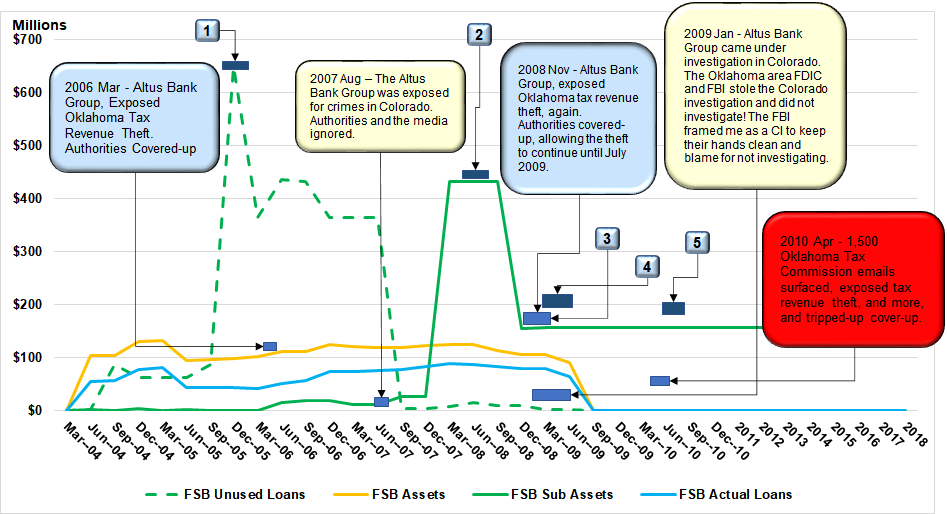 In short, this is about what happened when First State Bank Altus OK(1) and subsidiaries(2) (Altus OK bank group) came under investigation in Colorado in January 2009. At the time (Nov 2008 - Jul 2009), the Altus OK bank group was involved with 15 other similar groups in OK, skimming $250 million-plus in undocumented state tax revenue. Re: Confidential Oklahoma Tax Commission (OTC) emails uncovered April 2010.
The Oklahoma FBI and FDIC had (stole) the Colorado investigation case transferred to OK and never investigated, but made too many mistakes. I later learned the FBI had framed me as a Confidential Informant without my consent and knowledge.
Note: Two list of names involved in Oklahoma tax revenue theft and both tied to election campaign funding. Oklahoma Tax Revenue Theft and Bank of Oklahoma and Cimarron.
Following cover-ups included federal trials resulting in three mutually contradicting versions of the same crimes - FBI v FDIC v DOJ.
Evidence uncovered since include 16,000 hidden uses of tax revenue totaling $5 billion.
See names of Oklahoma FBI and FDIC agents involved in the cover-up and framing me as a Confidential Informant to blame for their failure to investigate a Colorado bank fraud investigation they stole. All to cover-up a massive case of political corruption. Names of agents and others involved.
More at Prowlingowl.com